Mike Norris Motorsports Billet PCV Oil Catch Can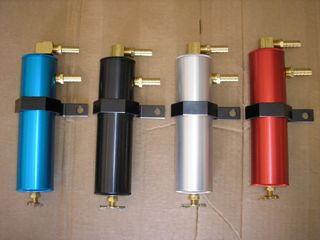 Mike Norris Motorsports Billet PCV Oil Catch Can
PCV oil catch cans are a must on LSx powered vehicles due to the stock PCV systems allowing oil vapors into the intake tract. Over time these vapors can cause harmful buildup and power loss. Designed initially for the LSx engines, the adjustable mounting bracket makes it a universal fit for many applications. We have sold over 11,500 units with no returns  which is a tribute to their quality. You will not find another PCV oil catch can of this quality for this price.

These units will also work very well in supercharged and turbo applications. We do recommend utilizing a check valve on the PCV hose on a forced induction package if one is not already installed and most of the better forced induction packages will already have a check valve included in their kits. The purpose of the check valve is to keep boost pressure from getting to the crankcase via the PCV system. Magnacharger, Kenne-Bell, Whipple and any other positive displacement supercharger generally do not require a check valve as they will still pull their PCV hose from before the SC head un it and not experience boost on the crankcase.
All returns are subject to a 20% re-stocking fee.